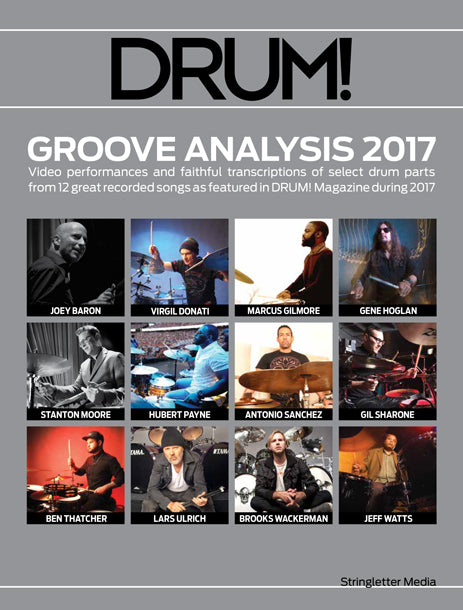 Groove Analysis
Download eleven great videos and transcriptions today! DRUM! Presents GROOVE ANALYSIS 2017, a collection of video performances and faithful transcriptions of select drum parts from 11 great DRUM! cover artists who had an impact in 2017. Each transcription and video excerpt teaches you how to nail the groove and master the concepts behind the songs.
Includes:
Antonio Sanchez: "Fire Trail Distant Glow"
Ben Thatcher: "How Did We Get So Dark?"
Gene Hoglan: "The Pale King"
Gil Sharone: "Heaven Upside Down" (plus 3 more songs)
Hubert Payne: "Lost in California"
Jeff Watts: "Waltz for Marvin"
Joey Baron: "Flipside"
Lars Ulrich: "Hardwired"
Marcus Gilmore: "Year of the Rabbit"
Stanton Moore: "River Boat"
Virgil Donati: "Revolution"
---
Share this Product
---
More from this collection