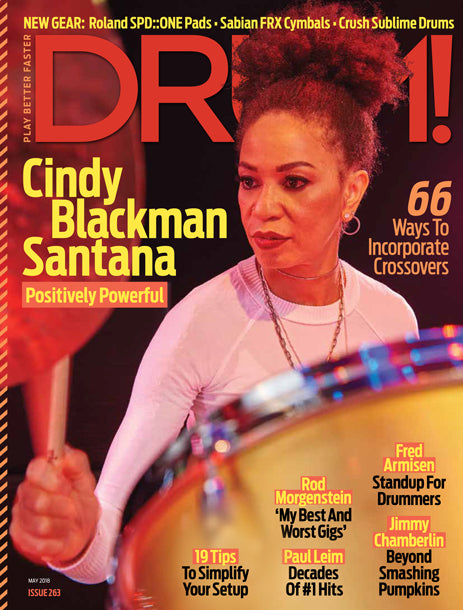 HLAG Power Pack Free Digital Issue Download
You get this issue free ($8.99 value), as part of your DRUM! Magazine Power Pack
On the Cover: Cindy Blackman Santana's versatile drumming is sensitive, responsive, and powerful, shaped by a foundation in jazz that includes recorded and live work with Lenny Kravitz, Wallace Roney, Dionne Warwick, and Carlos Santana, as well as her own dates as a bandleader. As Blackman Santana prepared to release her latest solo album, Give The Drummer Some, she shared with Drum some notable highlights from her personal journey.
Features: Simplify Your Setup and teardown at your next gig with our 19 time-saving tips. Nashville session stalwart Paul Leim reflects on lessons learned over a busy professional career that has lasted for more than 50 years. Dixie Dregs drummer Rod Morgenstein recalls in detail his best and worst gigs.
Lessons: 
Crossovers And Crossunders can help improve the efficiency of your movements around the drum set, as well as your sense of timing, with the help of 66 step-by-step exercises.
Gil Sharone introduces a solid two-bar reggae groove from the song "Guide Over Us" by Sizzla.
Effective bass drum patterns that you can play underneath a standard Cuban Bembe pattern in 12/8 from Brian Andres.
Louis Cole's open-handed drum solo seen on Instagram.
Joe Smyth offers a number of variations on the "train beat," a groove that has existed for decades in country and rock and roll.
Plus: Hear directly from Santana's powerhouse percussion section, Karl Perazzo and Paoli Mejias, about the band's sublime rhythmic grooves. Fred Armisen tells us about the inspiration behind his Netflix special, Standup For Drummers. Earth, Wind & Fire and veteran session drummer Sonny Emory is excited to share about his new album release with his band, while Jimmy Chamberlin continues to explore his love for jazz as he prepares to reunite with Smashing Pumpkins. Enhance your comfort level and interactions with recording engineers and producers with our handy Studio Glossary Of Terms.
Gear Reviews: 
Roland SPD::ONE series of electronic percussion pads
Crush Sublime Birch Kit
Sabian FRX Cymbals
---
Share this Product