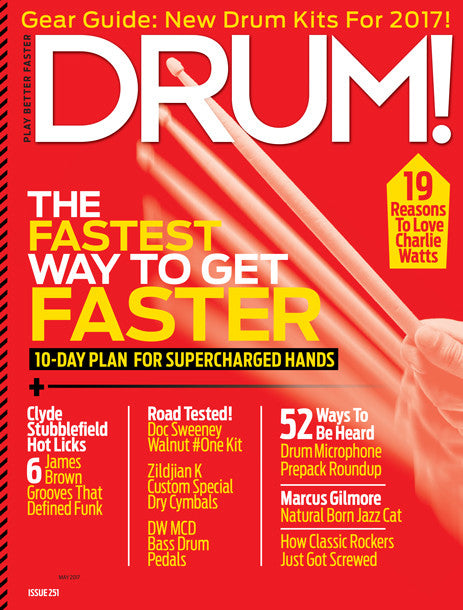 No. 251, May 2017 for Drumeo Members
As a friend of Drumeo, you can download this digital edition absolutely free. Enjoy!
Do you have a need for speed around the drum set? There are times when drummers must be able to call upon blazing-fast chops in order to serve the music, and Jared Falk, founder of the drumming tutorial website Drumeo, has a ten-day lesson plan for helping you to increase your speed and accuracy with your hands and your feet. Inside, you will also find Drum's 2017 Drum Set Gear Guide, chock-full of new and updated lines expertly crafted by established manufacturers and custom builders alike. Jazz drummer Marcus Gilmore — whose grandfather is Roy Haynes, and whose recording credits include Chick Corea, Vijay Iyer, Steve Coleman, David Virelles, and Chris Potter — shares his musical development and insights, and how he discovered his own voice on the instrument. We also pay tribute to Charlie Watts and Clyde Stubblefield; visit with The Mavericks' Paul Deakin and Southern Avenue's Tikyra Jackson; survey drum microphone prepacks; and review products from Doc Sweeney, Zildjian, and Drum Workshop.
---
Share this Product