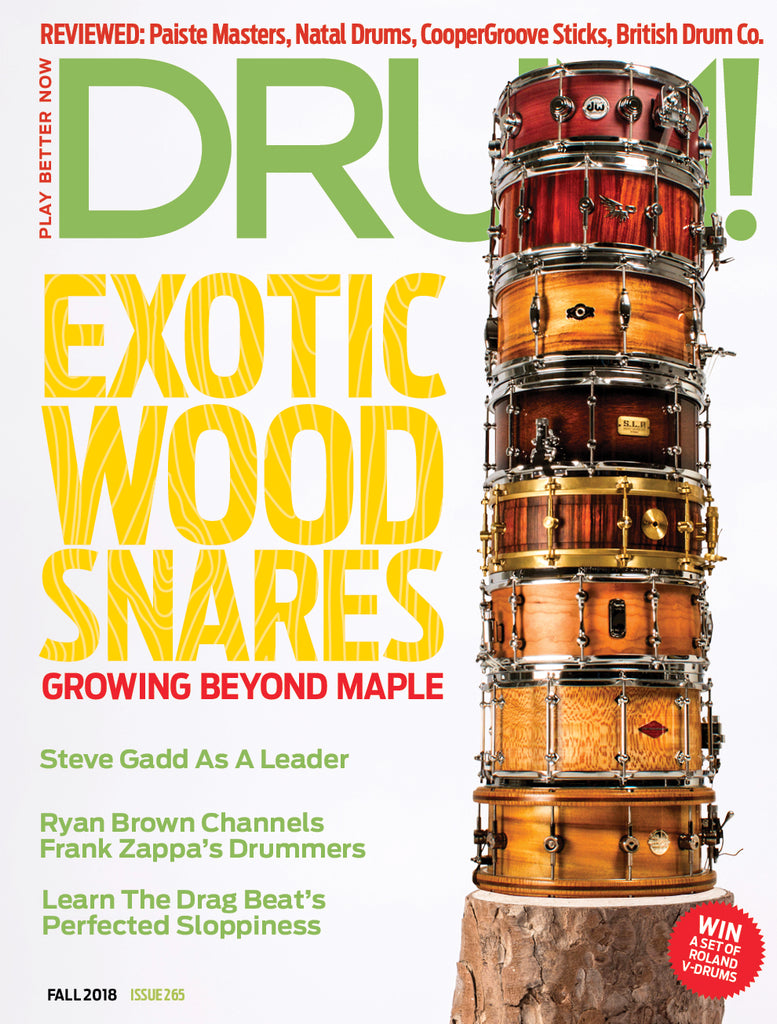 No. 265, Fall 2018
On the Cover: What makes wood snares sound so different from each other? Maple and mahogany are perfectly nice sounding woods, so why seek out the rare or unusual trees from around the world for our drum set's main voice? We hunted down eight exotic wood snares and tested their tonal qualities to find out what these different species sound like.
Features: As a bandleader, Steve Gadd has a plan for the music even before hearing one note. Frank Zappa had some incredible drummers in his band, and Ryan Brown channels their music and style on a nightly basis on tour with Dweezil Zappa. Check out some new and notable support systems for your drum set in our hardware roundup.
Lessons:
The drag beat's perfected sloppiness brings a deeper feel of pocket and  subdivisions
Joe Smyth demonstrates "mambo rock"
Anika Nilles shows a warmup featuring transitions in 5
Matt Byrne breaks down some double bass and single stroke fills
Brian Andres fuses cascara and rumba clave
Gear Reviews:
Natal Café Racer '59
Paiste Masters series
British Drum Co. Legend series
CooperGroove drumsticks
Plus: Taking the mystery out of tablas. Shannon Larkin talks about his apprehension before recording Godsmack's new album. Georgia Hubley's nuanced riot with Yo La Tengo. Kush Abadey brings youthful energy to jazz. Travis Foster's minimalism fills out Yob's thick sonic landscape. Antonio Sanchez's 5 pieces of gear he can't live without. Four things you didn't know about Hal Blaine. Meet the 2018 Hit Like A Girl champ Calsey Tory. Why it's best not to argue with your sound engineer.
---
Share this Product
---
More from this collection