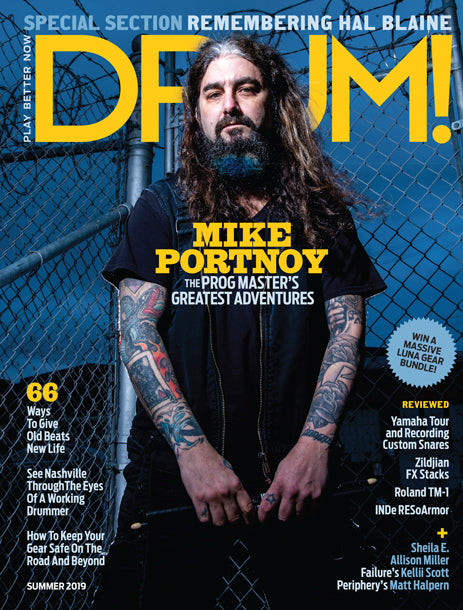 No. 268, Summer 2019
On the Cover: Mike Portnoy's music career has taken him around the world and back again. He looks back on his storied playing history and discusses his 10 most memorable onstage moments.
Features: Any sort of "road" gig can be hard on your gear, which calls for some means of protection. Here's how to keep it safe in the van, on the plane, or in the station wagon. A visual peak into what it's like to be a working drummer in the Music City. We pulled out all the stops for this one: A long-lost interview with Hal Blaine; memories from family, friends, and Wrecking Crew collaborators; detailed description of his favorite kits; and an analysis of the drumming behind some of his top hits.
Lessons:
Displacements: Change your perspective on time-tested beats
Joe Smyth demonstrates riding on the hi-hat
Anika Nilles' reviews shuffle-feel hand independence
Danny Gottlieb's exercise covers 'Cute' jazz solo tips
Glen Sobel demonstrates the double para-pa-diddle
Brian Andres discusses introducing clave to the drum set
Stanton Moore highlights the LLRL-RLRR sticking pattern
Gear Reviews:
Roland TM-1
Yamaha Tour Custom & Recording Snare Drums
Zildjian FX Stacks
INDe RESoArmor Drum Set
Plus: Sheila E.: Drawing inspiration from the chaos of current events; Kellii Scott and Failure's heavy-space rock; Matt Halpern: pushing the Periphery; Allison Miller on New York gigs and her current project Boom Tic Boom; Logan Kroeber of The Dodos on their 10th anniversary show and the process of recording albums; Tuning Problems? Try checking your BEAD; Sarah Thawer on her passion for percussion; Who owns the band name when members part ways, and more.
---
Share this Product
---
More from this collection