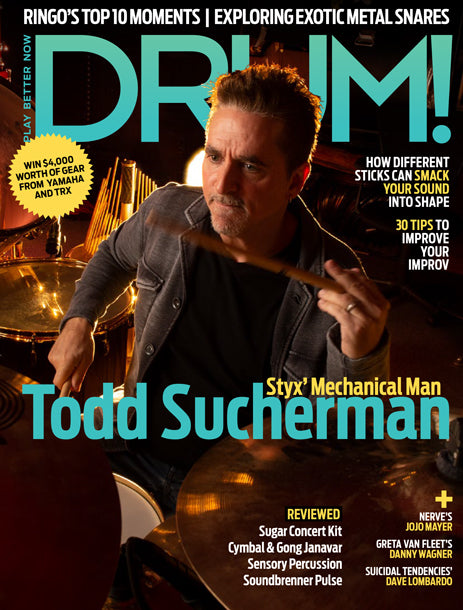 No. 267, Spring 2019
On the Cover: As the mechanically precise, lusciously musical drummer of Styx, Todd Sucherman held down the rhythm and brought plenty of chops to 2017's The Mission, the band's most popular original record since the early '80s. Now he takes returns to his Methods And Mechanics roots with a new take on the educational DVD format.
Features: Our list of Ringo Starr's Top 10 Recorded Moments demonstrates why he is and should always be considered one of the best of all time. We've been mining for tone in our Exotic Metal Snares article, so put down that pick axe and read all about these polished and patinaed beauties. A different pair of drumsticks can dramatically change the feel and sound of your playing for less than 20 bucks, and here's our guide on how the different aspects of sticks affect your sound.
Lessons:
30 Tips to Improve Your Improv
Stanton Moore details five Meters tunes based on the Ratcliff beat
Danny Gottlieb demonstrates the paradiddle-diddle as a jazz exercise
Anika Nilles' exercise keeps the same sticking but changes accents
Glen Sobel demonstrates the para-pa-diddle hybrid rudiment
Brian Andres highlights the bongo-bell pattern
Matt Byrne finishes his three-part single stroke double bass pattern series
Gil Sharone with a Sly Dunbar reggae beat from "Plastic Smile"
Gear Reviews:
Sugar Percussion African mahogany concert kit
Cymbal & Gong Janavar series
Sunhouse Sensory Percussion
Soundbrenner Pulse wearable metronome
Plus: Percussionist Jamey Haddad talks about inventing new instruments, working with Paul Simon, and creating a new kind of world/jazz fusion group; Paul Wertico on his fearless creativity; Danny Wagner on Greta Van Fleet's rocket to stardom; Jojo Mayer details the recording process for Nerve's acoustic jazz album; Dave Lombardo is a natural fit with Suicidal Tendencies; 5 pieces of gear Brann Dailor can't live without; Diane Vitalich and the '60s female rock group Ace Of Cups gets their due; 5 things you didn't know about drumheads; How to negotiate your fee as a drummer.
---
Share this Product
---
More from this collection