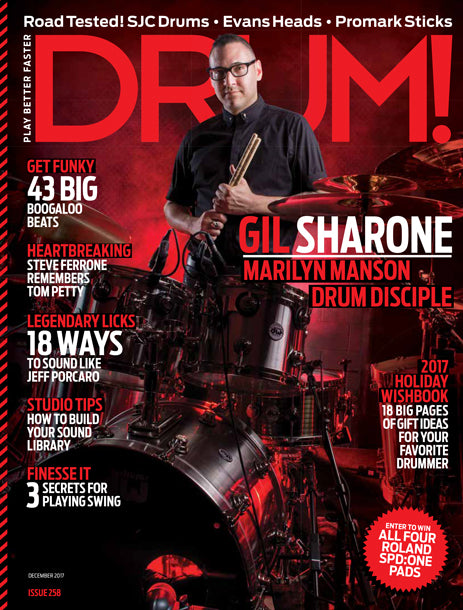 No. 258, December 2017
On the Cover: Gil Sharone shares what it's like to occupy the drum chair in Marilyn Manson's band, both in the recording studio for Manson's 2017 release Heaven Upside Down and onstage for the supporting tour, which was memorably halted when Manson suffered a stage injury in New York City. Plus, learn about Sharone's musical upbringing, and the diverse skill set he developed that keeps his phone ringing with gig offers.
Features: Drum's annual Holiday Wishbook is chock-full of tantalizing gear and indispensable accessories just for drummers. Iconic singer-songwriter Tom Petty passed away on October 3 following The Heartbreakers' last-ever summer tour, and Heartbreakers drummer Steve Ferrone shared with Drum his favorite memories of working with Petty for nearly 25 years.
Lessons: During his lifetime, Jeff Porcaro made his indelible mark on many of the biggest hit songs and albums of the '80s and early '90s. We present 18 ways you can sound like Porcaro, with transcriptions and analyses of his most influential grooves and memorable licks. And check out Drum's guide to building up a go-to sound library for your personal studio; a lesson about the various incarnations of the boogaloo groove; a new Subdivisions lesson from Anika Nilles; how to make a ride cymbal swing.
Reviews: SJC Navigator Drums, Evans' UV1 drumheads, and Promark's FireGrain drumsticks.
---
Share this Product
---
More from this collection