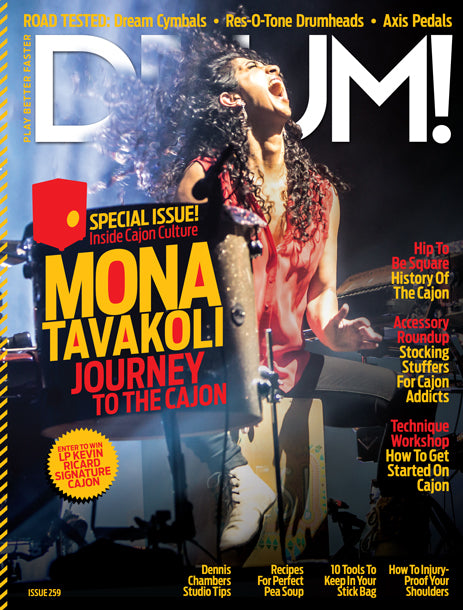 No. 259, January 2018
On the Cover: Percussionist Mona Tavakoli has long teamed up with singer-songwriter Jason Mraz both live and in the studio; learn about her life's path from the drum set and marching/orchestral percussion to the cajon, as well as how she developed her signature cajon techniques, many of which are widely used today.
Features: Cajon Culture. Historical overview of the cajon's evolution from its origins in the 19th century as a box-drum played by colonial slaves to today's commercially popular instrument within many countries, cultures, and musical genres. Plus, check out our extensive roundup of cajon accessories designed to expand the drum's range of sounds and textures to enrich the playing experience.  
Lessons: Get started with playing the cajon through best-practice techniques and grooves you can use; studio mixing tips; ten essential tools to keep inside your stick bag; a workshop on the "pea-soup" hi-hat technique; a Billy Cobham-inspired lesson.
Reviews: Dream Cymbals, Res-O-Tone drumheads, and Axis Caliber pedals
Plus: Dennis Chambers reflects on his experiences as a top session drummer over the past 30 years.
---
Share this Product
---
More from this collection