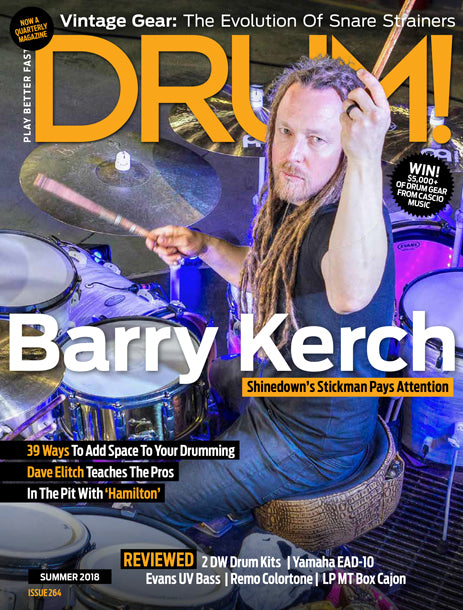 No. 264, Summer 2018
On the Cover: Shinedown's stickman Barry Kerch has figured out that a good song doesn't always need mind-blowing drum chops to stand out. Instead, he focuses on playing what will best serve the song on the band's new album, Attention Attention. We dive into the recording process for new album, and why the band chose to release a complete album in an age where online streaming seems to favor the single over the full album.
Features: Take a trip through the evolution of snare strainers from the 1920s to the 1940s. Dave Elitch talks about playing with The Mars Volta and Miley Cyrus, and what it's like to teach some of the top professional drummers. Find out why Chicago was once the center of the drumming universe.
Lessons:
Some call it the final frontier, but sometimes it pays to add some space to your drumming
Anika Nilles details paradiddle transitions and accents
Gil Sharone highlights a classic reggae beat by Junior Murvin
Danny Gottlieb demonstrates the feel of Harold Jones on "The Magic Flea"
Brian Andres travels the world with this four-note bass drum foundation
Joe Smyth shows some fills with a backbeat
Glen Sobel gives tips on power double bass fills
Gear Reviews:
DW Contemporary Classic kit
Remo Colortone heads
LP MT Box cajon
DW LowPro travel kit
Evans EV bass drumheads
Yamaha EAD-10
Plus: Percussionist Jake Wood details life in the pit with Hamilton. Will a clear winner emerge in the battle between electronic and acoustic drums? Blake Richardson pushes the limits with Between The Buried And Me. From Chinese tacked toms to Gene Krupa, Daniel Glass gives a brief history of the tom tom. Drum builder Rhett Hendrix gives tips on buying used and vintage drums. Five things to look for in a record deal from a drumming lawyer. 
---
Share this Product
---
More from this collection